更新日:2022年1月25日
Outline of Sakurajima (History)

Formation of Sakurajima
Approximately 29,000 years ago, a huge eruption occurred in the current northern part of Kagoshima Bay resulting in the formation of the Aira caldera.
Approximately 3,000 years after that, new volcanic activity took place at the southern edge of this Aira caldera, giving birth to Sakurajima.
Sakurajima is a composite volcano consisting of Kita-dake (north peak) and Minami-dake (south peak). Minami-dake is currently active.

Recurring Major Eruptions

Many major eruptions have taken place on Sakurajima including the following four events with historical records:
Tempyo-Hoji Eruption (year 764)
Bunmei Eruption (1471)
An'ei Eruption (1779)
Taisho Eruption (1914)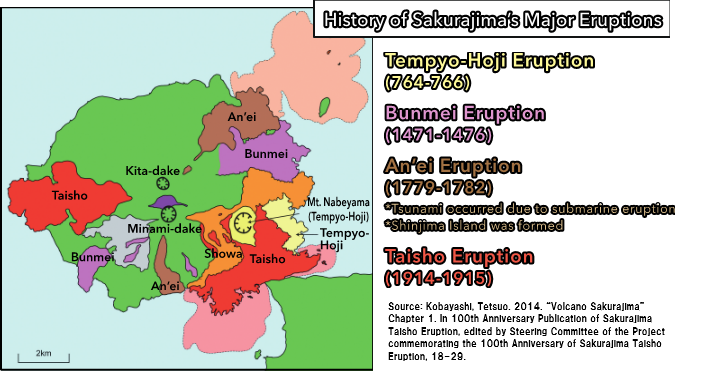 Damage Caused by Taisho Eruption (1914)

During the Taisho eruption of 1914, the volcanic smoke rose to a height of 18,000 meters and emitted a great volume of pumice and volcanic ash.
The buried shrine gate in Kurokami district exemplifies its dreadful power.
In addition, the lava flow filled the strait which used to exist between Sakurajima Island and Osumi peninsula.As a result, Sakurajima became connected to the peninsula.
Furthermore, an earthquake of magnitude 7 on the Richter scale caused tremendous damage to the other side of the shore in Kagoshima City.
(58 dead or missing)