更新日:2022年1月25日
[Main Component 1] Disaster Prevention Measures for Achieving "the Zero Victim Goal" in any Major Eruptions

Evacuation Facilities / Guidance Signs

Evacuation facilities within Sakurajima include shelters to protect people from falling boulders, evacuation houses and ports used when evacuating by ferry. Respective guidance signs are well equipped.


Ash Fall Removal Measures

Volcanic ash accumulated from Sakurajima eruptions is cleaned up by road sweepers and road sprinklers . In addition, in residential areas, designated ash collection plastic bags are provided to citizens free of charge to help mitigate the problem.


Making Requests

Together with the surrounding cities of Sakurajima, including Kirishima, Kanoya and Tarumizu, the "Council of countermeasures against Sakurajima volcanic activity" has been organized. Every year, this council requests national and Kagoshima prefectural governments to improve sabo erosion control facilities and roads.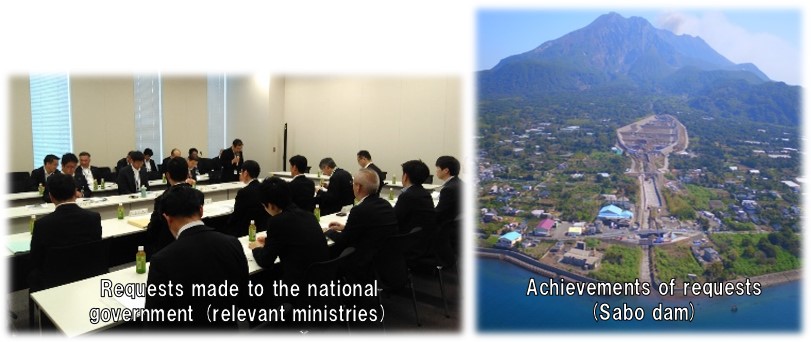 Collaboration with Relevant Bodies (Five Party Meeting)

Kagoshima meteorological observatory, Osumi branch of the Kyushu Regional Development Bureau, Kagoshima Prefecture, universities (Kyoto University Sakurajima Volcano Research Center and Kagoshima University) as well as municipalities (Kagoshima City and Tarumizu City) have worked together to establish the "Sakurajima Volcanic Disaster Prevention Council" (known as the Five Party Meeting). The council meets every 2 months to exchange information and opinions on volcanic activities.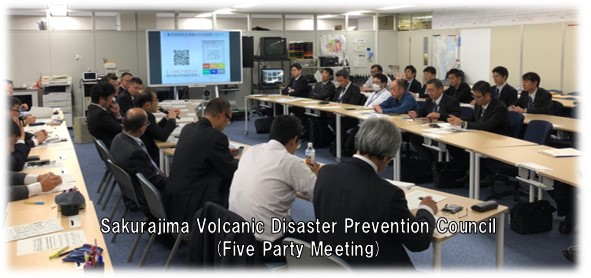 Countermeasures Against Major Sakurajima Eruptions
The measures are being prepared for a major eruption equivalent to the Taisho Eruption. These include an escape from Sakurajima, measures against a large amount of pumice and volcanic ash fall and evacuation for an extended period including the one to neighboring municipalities under assumption of falling and deposit of a great amount of pumice and ash in the city area.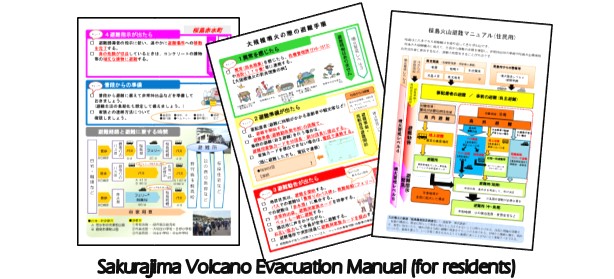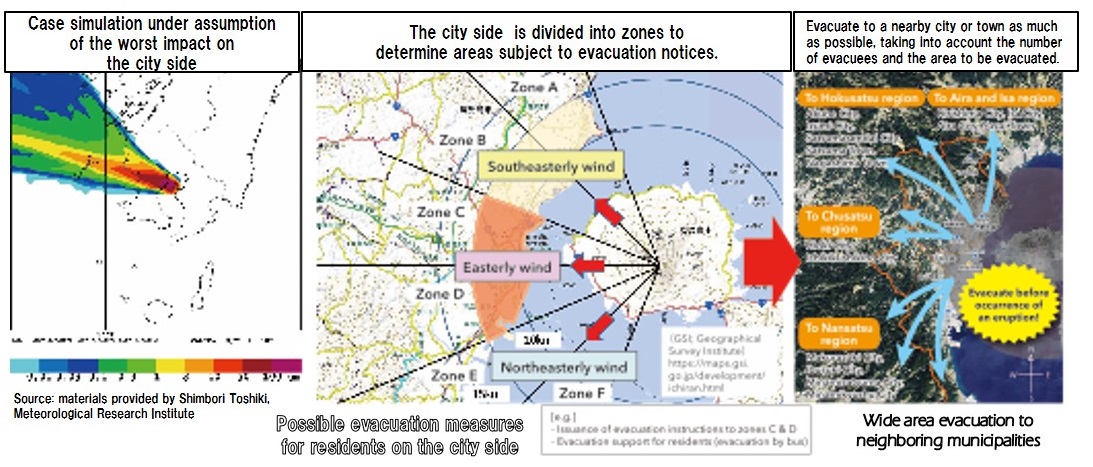 Verification experiment for vehicular travel and removal of rubble from roads under assumption of a large scale pumice and ash fall
In developing measures against a large amount of pumice and volcanic ash fall, the world's first verification experiment of vehicular travel and rubble removal from roads was conducted in July 2018 under assumption of a large amount of pumice and volcanic ash fall. The experiment helped clarify requirements for all-wheel-drive vehicles as well as effective removal methods.


Sakurajima Volcanic Disaster Drill

The Sakurajima Volcanic Disaster Drill has been carried out every year for over 50 years in collaboration with local people and disaster prevention related organizations. This program has contributed to enhancement of awareness of disaster prevention and the effectiveness of its measures.